Closed Banana Plugs for Speaker Wire, Gold Plated Connectors with Dual Screws
[EASY INSTALLATION & DESIGN] Banana plugs make speaker wire installation a breeze and are great to use with A/V receivers, amplifiers, surround sound systems, banana wall plates
[CLOSED TYPE DESIGN WITH DUAL SCREWS] Isolates wires which keep them from shorting out and the two set screws keep the wire connection secure
[COLOR CODED AND GOLD PLATED CONNECTORS] Banana connectors are gold plated to resist corrosion and the collar is color coded for polarity identification
[WORKS WITH MULTIPLE SIZES OF SPEAKER WIRE] Compatible with 12AWG to 18AWG speaker wire
[LIMITED LIFETIME WARRANTY] All FosPower products come with a Limited Lifetime Warranty
Videos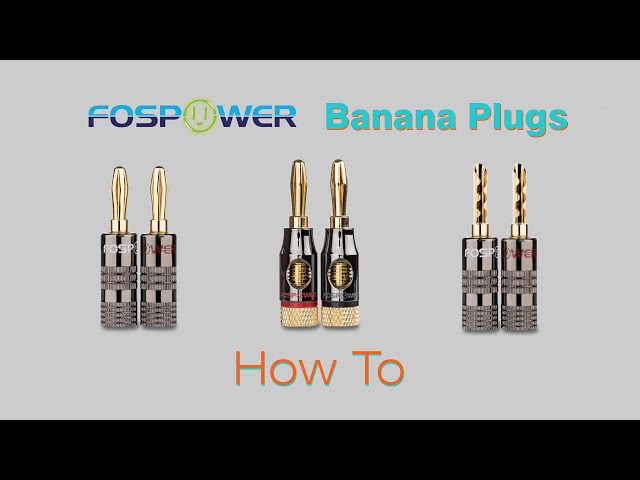 Design
FosPower's banana plugs make speaker installation simple. They are designed for use with speakers, A/V receivers, amplifiers, surround sound systems and banana wall plates that use banana style binding posts. Banana plugs make it easy to connect speaker wire to your amplifiers/receivers and speakers.
Closed Type
With the closed type design, the speaker wire enters the banana plug from the rear/back side and is enclosed inside the metal collar. This isolates the wires and keeps them from shorting out.
Dual Screws
2 set screws secure the speaker wire to the banana plug.
Gold Plated Connector
Prevents corrosion and insures a smooth connection.
Works with Multiple Sizes of Speaker Wire
For use with 12AWG to 18AWG speaker wire.
Color Coded
Conveniently color coded with two different colors for easy polarity identification.
Limited Lifetime Warranty
This FosPower product includes a limited lifetime warranty. Please visit our FosPower website for more details.
More Information
UPC
FOSCBL-2312 = 813154023128, FOSCBL-2313 = 813154023135, FOSCBL-2314 = 813154023142
Specifications
Specifications

6 gold plated leafs
Secures wire with 2 Set Screws
Accepts 12AWG to 18AWG speaker wire
24k gold plated

Package Includes

2 pairs of banana plugs (4 pieces)

Compatibility
Unpowered speakers, A/V receiver's, amplifiers, surround systems, banana wall plates and speaker wire.
Color
Gold